AIRPORT BUS TRANSFERS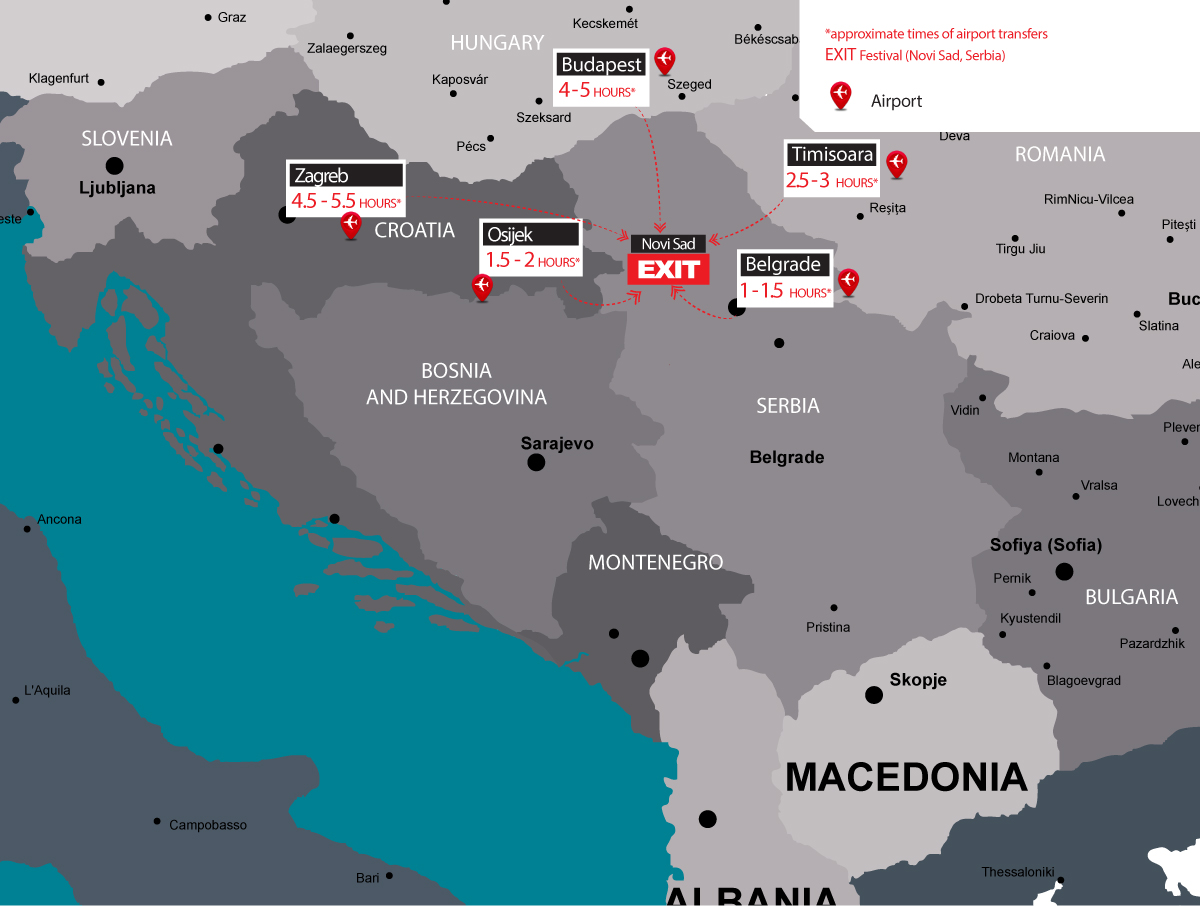 Click on the map to enlarge it
GETTING TO AND BACK FROM EXIT FESTIVAL
(NOVI SAD, SERBIA)
Which airports to use to get to/from EXIT festival?

From your starting point the closest airport to EXIT festival (Novi Sad, Serbia) is the Belgrade airport, Nikola Tesla. Next best solution is the Budapest airport in Hungary. Other airports you can use are: Timisoara (Romania), Zagreb (Croatia), Zadar (Croatia), Dubrovnik (Croatia) and others
Does EXIT organize shuttle service from surrounding airports
to/from EXIT festival?

YES! To/From surrounding airports you can get an official EXIT coach to Novi Sad. The bus takes 1.5 hours from Belgrade and it takes 5-5.5 hours from Budapest. Shuttle service is also organized for other airports. Prices start at 9.99 EUR.

BUY NOW
WHERE TO SLEEP @ EXIT FESTIVAL (NOVI SAD, SERBIA) ?

Choose between varieties of accommodation with official EXIT tourist service: campsites, apartments, hostels and hotels.
Our client service is also at your disposal for any help and inquiries.
| | | | | | |
| --- | --- | --- | --- | --- | --- |
| FLYING FROM | FLYING TO | DATE | CHEAPEST | QUICKEST | COMPANY |
| Istanbul | Belgrade | 12/07/2018 | 102 EUR | 102 EUR | |
| Berlin | Budapest | 12/07/2018 | 44 EUR | 44 EUR | |
| London Luton | Timisoara | 12/07/2018 | 150 GBP | 150 GBP | |
| London Southend | Budapest | 12/07/2018 | 66 GBP | 66 GBP | |
| London Stansted | Budapest | 12/07/2018 | 74 GBP | 74 GBP | |
| London Luton | Belgrade | 12/07/2018 | 135 GBP | 135 GBP | |
| Manchester | Budapest | 12/07/2018 | 103 GBP | 103 GBP | |
| Paris | Budapest | 12/07/2018 | 111 EUR | 111 EUR | |
| Paris | Belgrade | 12/07/2018 | 133 EUR | 133 EUR | |
| Geneva | Budapest | 12/07/2018 | 83 EUR | 83 EUR | |
| Berlin | Budapest | 12/07/2018 | 28 EUR | 28 EUR | |
| Amsterdam | Budapest | 12/07/2018 | 110 EUR | 110 EUR | |
| Amsterdam | Belgrade | 12/07/2018 | 171 EUR | 171 EUR | |
| Eindhoven | Budapest | 12/07/2018 | 43 EUR | 43 EUR | |
| Zurich | Belgrade | 12/07/2018 | 131 EUR | 131 EUR | |
| Zurich | Budapest | 12/07/2018 | 92 EUR | 92 EUR | |
| | | | | | |
| --- | --- | --- | --- | --- | --- |
| FLYING FROM | FLYING TO | DATE | CHEAPEST | QUICKEST | COMPANY |
| Timisoara | London Luton | 16/07/2018 | 76 GBP | 76 GBP | |
| Budapest | London Gatwick | 16/07/2018 | 139 GBP | 139 GBP | |
| Budapest | London Stansted | 16/07/2018 | 71 GBP | 71 GBP | |
| Budapest | London Luton | 16/07/2018 | 80 GBP | 80 GBP | |
| Budapest | Manchester | 16/07/2018 | 104 GBP | 104 GBP | |
| Budapest | Berlin | 16/07/2018 | 73 EUR | 73 EUR | |
| Budapest | Paris | 16/07/2018 | 97 EUR | 97 EUR | |
| Budapest | Amsterdam | 16/07/2018 | 150 EUR | 150 EUR | |
| Budapest | Geneva | 16/07/2018 | 106 EUR | 106 EUR | |
| Budapest | Zurich | 16/07/2018 | 103 EUR | 103 EUR | |
| Belgrade | Zurich | 16/07/2018 | 71 EUR | 71 EUR | |
| Belgrade | Paris | 16/07/2018 | 179 EUR | 179 EUR | |
| Belgrade | Istanbul | 16/07/2018 | 110 EUR | 110 EUR | |
| Belgrade | Eindhoven | 10/07/2017 | 83 EUR | 83 EUR | |

Pricelist from

on 23/04/2018
Welcome cards