WHAT HAPPENS AFTER I PLACE AN ORDER?
After you have made the full payment, you will receive an e-voucher with your booking details.
Make sure that you entered the correct e-mail during the booking procedure. Please double-
check.
WHERE CAN I EXCHANGE THE E-VOUCHER FOR MY TICKET /
ACCOMMODATION / TRANSFER?
You will receive detailed instructions about exchanging vouchers for booked services via e-mail,
15 days prior to the Festival.
CAN I CHANGE THE BOOKED ORDER?
You can change the booked order depending on the availability. Please, send us an e-mail @
info@exittrip.org and our Customer Service Team will give their best to fulfill your demand.
HOW TO PAY?
Payment is available only by valid credit cards. Follow the easy booking steps and fill out all the
required fields.
DEPOSIT?
Deposit scheme is available only for PACKAGE deals.


YOU HAVE ADDITIONAL QUESTIONS?
You can contact us any time @ info@exittrip.org, and our Customer Service Team will make
sure to help you with all your questions.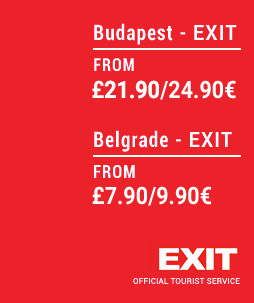 Welcome cards