1. CURRENCY
2. LANGUAGE
3. CLIMATE
4. TIME ZONE
5. DUTY FREE
6. VISA
10. ELECTRICITY
11. HEALTH
12. INTERNET
13. SHOPPING

The official currency of Serbia is the Serbian dinar.

There are nine different denominations of the Serbian dinar banknotes - 10, 20, 50, 100, 200, 500, 1000, 2000 and 5000 RSD.

Most of the shops, restaurants, cafés and bars accept credit cards (mostly Mastercard and Visa). There are ATMs available all around the city.

Serbian language is the official spoken language in Serbia, written in the Latin and Cyrillic alphabet.
Although Serbian is the most spoken language in Novi Sad, it should be easy to find someone who you can communicate with in English too.

Here are some useful and mostly common words you can use in Serbia:
Hello - Ćao (ciao) or Zdravo.
Goodbye - Ćao (ciao) or Doviđenja.
Pleased to meet you - Drago mi je.
How are you? - Kako Ste? (when you talk to someone with respect) or Kako si? (when you talk to your friends, family or acquaintances)
Well, thanks - Dobro, hvala.
Where are you from? - Odakle ste? (when you talk to someone with respect) or Odakle si? (when you talk to your friends, family or acquaintances)
I'm from... - Ja sam iz...
Yes / No - Da / Ne
Excuse Me - Izvinite (when you talk to someone with respect) or Izvini (when you talk to your friends, family or acquaintances)
Sorry - Pardon or Izvinite
Please - Molim
Thanks - Hvala
Many Thanks - Puno hvala
You're welcome - Nema na čemu
I'd like a ... - Želim...
Beer - Pivo
I'd like a beer please - Molim vas pivo.
Where are the toilets? - Gde su toaleti?
How much is it? - Koliko košta?
I don't understand - Ne razumem
Do you speak English? - Govorite li engleski?

Novi Sad's climate is moderate continental with distinct seasons. Summer is usually warm although you can be surprised by summer shower.
July is usually hot month, with temperatures exceeding thirty degrees. The average temperature of the Danube in July is about 24 degrees.

As past experience has shown, in July the weather can catch us off guard. Therefore, we recommend you bring a light summer jacket or any additional item of clothing so that you can enjoy your favorite shows.

If you want to know more about the weather, the weather forecast is available here
Serbia is in west – European time zone GMT+1h

When entering Serbia you have the right to buy duty free 1l of alcoholic drink, 1 box of cigarettes, 1 box of cigarillos, 1 bottle of perfume or toilet water.

Citizens of EU countries, as well as UK, USA, Canadian and Australian citizens do not need visa to stay in Serbia less than 90 days.
However, you need your passports, so don't forget to bring them.

For countries not mentioned above, we suggest you to check visa requirement with your embassy.
National Tourism Organisation of Serbia,
Belgrade, Čika Ljubina 8 street
phone: +381 (0) 11 3342521 +381 11 6557 100
http://www.serbia.travel/
Tourist info centre of Novi Sad
Novi Sad, Jevrejska 10 street
phone: +381 (0)21 661 73 43, +381 (0)21 66 173 44
http://novisad.travel/en/
Tourism Organisation of Vojvodina,
Novi Sad , Bulevar Mihajla Pupina 6 street
phone: +381 (0) 21 452910
vojvodinaonline.com
Novi Sad is well known by its rich cuisine and best restaurants. One of the most popular specialty is barbecued meat (most famous are ćevap and pljeskavica, made of various ground meats) and Karlovacki Bermet (red wine highly rated at the Viennese court) as the perfect pairing for it.

There are plenty of restaurants with home and international cuisines, such as Italian, Chinese, Indian, etc.
Price range for a meal is from 150 to 1200 dinars (1.2 to 10 EUR).
Domestic beer is around 150 dinars (1.2 EUR), foreign beers are from 170 to 300 dinars (1.5 - 2.5 EUR).
Espresso coffee costs from 90 to 130 dinars (0.70 - 1.1 EUR ) and juices/sodas from 100 to 170 dinars (0.80 – 1.5 EUR)
Restaurants' working hours are mostly from 8 a.m. to 11 p.m., while most of the fast food are open 24 hours a day and meals cost around 150 dinars (1.2 EUR)

Hope you will enjoy the food!

You can use payphones or your cell phone to call home or anywhere in the world. There are several mobile operators in Serbia:

Voltage in Serbia is 230 V and frequency 50 Hz. Type of socket is C or F. UK visitors will need adapters for most appliances.

There are no diseases against which you have to be vaccinated before coming to Serbia. Health institutions and hygiene are in compliance with European standards.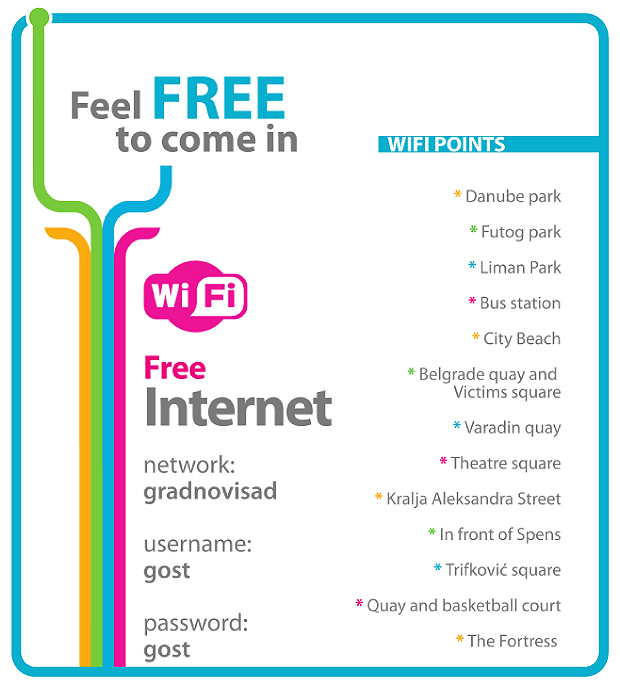 There are numerous shops, souvenir and book stores in the very heart of Novi Sad. We recommend shopping malls: Merkator (102 Bulevar Oslobodjenja), Sad Novi Bazaar and Pariski Magazin in the city centre.
If you cannot live without music the best place to get music CDs is Mungos shop in Njegoseva Street.
Welcome cards