AIRPORT BUS TRANSFERS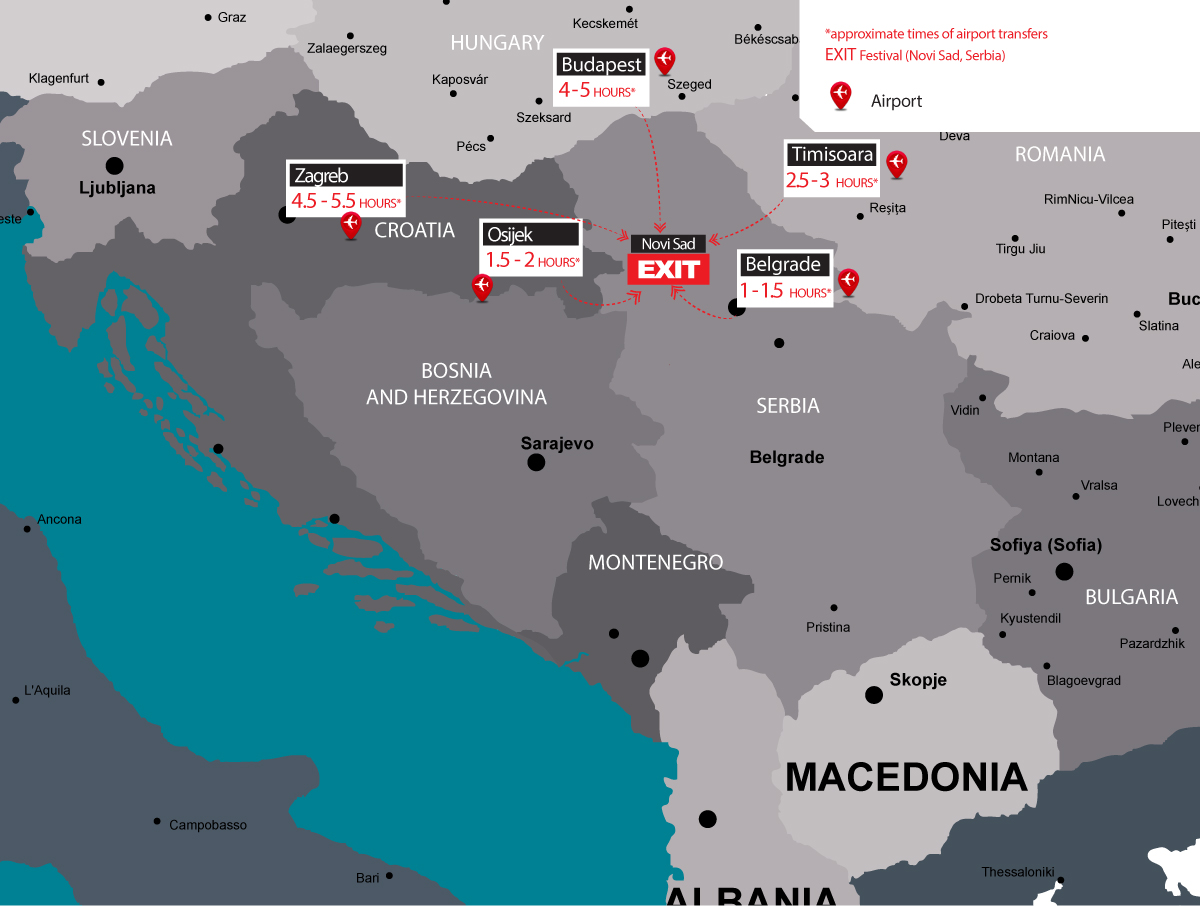 Click on the map to enlarge it
GETTING TO AND BACK FROM EXIT FESTIVAL
(NOVI SAD, SERBIA)
Which airports to use to get to/from EXIT festival?
From your starting point, the closest airport to EXIT festival (Novi Sad, Serbia) is the Belgrade airport Nikola Tesla, 80km or 1-1.5 hours away.
Other best solution is the Budapest airport in Hungary. Only 286km (4-5 hours) from Novi Sad, Budapest airport has a good deal of low-cost flights every day.
Also surrounding airports we suggest you use are in Romania: Timisoara (154km/ 2.5-3 hours) and Croatia: Zagreb (374km/ 4.5-5.5 hours).
Does EXIT organize shuttle service from surrounding airports
to/from EXIT festival?

YES! To/From surrounding airports, you can get an official EXIT coach to Novi Sad. The bus takes 1.5 hours from Belgrade and it takes 5-5.5 hours from Budapest. Shuttle service is also organized for other airports. Prices start at 9.90 EUR.
BUY NOW
Is shuttle bus only option for direct transfer to/from the Exit festival?
You're looking for something more exclusive for you and your friends? We got you! Click the link below an choose between a private car or van transfers from nearby airports or upgrade your trip to a VIP transfer service.
WHERE TO SLEEP @ EXIT FESTIVAL (NOVI SAD, SERBIA)?
Choose between varieties of accommodation with official EXIT tourist service: campsites, apartments, hostels, and hotels.
Our client service is also at your disposal for any help and inquiries.
| | | | | | |
| --- | --- | --- | --- | --- | --- |
| FLYING FROM | FLYING TO | DATE | CHEAPEST | QUICKEST | COMPANY |
| Istanbul | Belgrade | 2/07/2019 | 87 EUR | 87 EUR | Atlasglobal |
| Berlin | Budapest | 2/07/2019 | 34 EUR | 34 EUR | |
| London Gatwick | Belgrade | 2/07/2019 | 126 GBP | 126 GBP | |
| London Luton | Timisoara | 2/07/2019 | 84 GBP | 84 GBP | Wizz Air |
| London Stansted | Budapest | 2/07/2019 | 59 GBP | 59 GBP | |
| London Luton | Budapest | 2/07/2019 | 78 GBP | 78 GBP | |
| Manchester | Budapest | 2/07/2019 | 91 GBP | 91 GBP | |
| Paris | Budapest | 2/07/2019 | 74 EUR | 74 EUR | |
| Paris | Belgrade | 2/07/2019 | 130 EUR | 130 EUR | Wizz Air |
| Geneva | Budapest | 2/07/2019 | 48 EUR | 48 EUR | |
| Berlin | Belgrade | 2/07/2019 | 132 EUR | 132 EUR | |
| Amsterdam | Budapest | 2/07/2019 | 58 EUR | 58 EUR | |
| Amsterdam | Belgrade | 2/07/2019 | 70 EUR | 70 EUR | |
| Eindhoven | Budapest | 2/07/2019 | 90 EUR | 90 EUR | |
| Zurich | Belgrade | 2/07/2019 | 78 EUR | 78 EUR | |
| Zurich | Budapest | 2/07/2019 | 96 EUR | 96 EUR | |
| | | | | | |
| --- | --- | --- | --- | --- | --- |
| FLYING FROM | FLYING TO | DATE | CHEAPEST | QUICKEST | COMPANY |
| Istanbul | Belgrade | 3/07/2019 | 100 EUR | 100 EUR | |
| Berlin | Budapest | 3/07/2019 | 34 EUR | 34 EUR | |
| London Gatwick | Belgrade | 3/07/2019 | 144 GBP | 144 GBP | |
| London Luton | Timisoara | 3/07/2019 | 84 GBP | 84 GBP | Wizz Air |
| London Stansted | Budapest | 3/07/2019 | 43 GBP | 43 GBP | |
| London Luton | Budapest | 3/07/2019 | 84 GBP | 84 GBP | |
| Manchester | Budapest | 3/07/2019 | 96 GBP | 96 GBP | |
| Paris | Budapest | 3/07/2019 | 53 EUR | 53 EUR | |
| Paris | Belgrade | 3/07/2019 | 140 EUR | 140 EUR | Easy Jet |
| Geneva | Budapest | 3/07/2019 | 48 EUR | 48 EUR | |
| Berlin | Belgrade | 3/07/2019 | 61 EUR | 61 EUR | |
| Amsterdam | Budapest | 3/07/2019 | 127 EUR | 127 EUR | |
| Amsterdam | Belgrade | 3/07/2019 | 66 EUR | 66 EUR | |
| Eindhoven | Budapest | 3/07/2019 | 90 EUR | 90 EUR | |
| Zurich | Belgrade | 3/07/2019 | 78 EUR | 78 EUR | |
| Zurich | Budapest | 3/07/2019 | 87 EUR | 87 EUR | |
| | | | | | |
| --- | --- | --- | --- | --- | --- |
| FLYING FROM | FLYING TO | DATE | CHEAPEST | QUICKEST | COMPANY |
| Istanbul | Belgrade | 4/07/2019 | 56 EUR | 56 EUR | |
| Berlin | Budapest | 4/07/2019 | 34 EUR | 34 EUR | |
| London Southend | Belgrade | 4/07/2019 | 143 GBP | 143 GBP | |
| London Luton | Timisoara | 4/07/2019 | 56 GBP | 56 GBP | Wizz Air |
| London Stansted | Budapest | 4/07/2019 | 51 GBP | 51 GBP | |
| London Luton | Budapest | 4/07/2019 | 78 GBP | 78 GBP | |
| Manchester | Budapest | 4/07/2019 | 76 GBP | 76 GBP | |
| Paris | Budapest | 4/07/2019 | 73 EUR | 73 EUR | |
| Paris | Belgrade | 4/07/2019 | 175 EUR | 175 EUR | Wizz Air |
| Geneva | Budapest | 4/07/2019 | 49 EUR | 49 EUR | |
| Berlin | Belgrade | 4/07/2019 | 139 EUR | 139 EUR | |
| Amsterdam | Budapest | 4/07/2019 | 50 EUR | 50 EUR | |
| Amsterdam | Belgrade | 4/07/2019 | 94 EUR | 94 EUR | |
| Eindhoven | Budapest | 4/07/2019 | 90 EUR | 90 EUR | |
| Zurich | Belgrade | 4/07/2019 | 78 EUR | 78 EUR | |
| Zurich | Budapest | 4/07/2019 | 87 EUR | 87 EUR | |
| | | | | | |
| --- | --- | --- | --- | --- | --- |
| FLYING FROM | FLYING TO | DATE | CHEAPEST | QUICKEST | COMPANY |
| Timisoara | London Luton | 8/07/2019 | 75 EUR | 75 EUR | |
| Belgrade | London Gatwick | 8/07/2019 | 105 GBP | 105 GBP | |
| Budapest | London Stansted | 8/07/2019 | 86 GBP | 86 GBP | |
| Budapest | London Luton | 8/07/2019 | 84 GBP | 84 GBP | |
| Budapest | Manchester | 8/07/2019 | 77 GBP | 77 GBP | |
| Budapest | Berlin | 8/07/2019 | 39 EUR | 39 EUR | |
| Budapest | Paris | 8/07/2019 | 59 EUR | 59 EUR | |
| Budapest | Amsterdam | 8/07/2019 | 65 EUR | 65 EUR | |
| Budapest | Geneva | 8/07/2019 | 47 EUR | 47 EUR | |
| Budapest | Zurich | 8/07/2019 | 126 EUR | 126 EUR | |
| Belgrade | Zurich | 8/07/2019 | 103 EUR | 103 EUR | |
| Belgrade | Paris | 8/07/2019 | 139 EUR | 139 EUR | |
| Belgrade | Istanbul | 8/07/2019 | 74 EUR | 74 EUR | |
| Belgrade | Eindhoven | 8/07/2019 | 63 EUR | 63 EUR | |
| | | | | | |
| --- | --- | --- | --- | --- | --- |
| FLYING FROM | FLYING TO | DATE | CHEAPEST | QUICKEST | COMPANY |
| Timisoara | London Luton | 9/07/2019 | 97 EUR | 97 EUR | |
| Belgrade | London Gatwick | 9/07/2019 | 104 GBP | 104 GBP | |
| Budapest | London Stansted | 9/07/2019 | 43 GBP | 43 GBP | |
| Budapest | London Luton | 9/07/2019 | 84 GBP | 84 GBP | |
| Budapest | Manchester | 9/07/2019 | 64 GBP | 64 GBP | |
| Budapest | Berlin | 9/07/2019 | 32 EUR | 32 EUR | |
| Budapest | Paris | 9/07/2019 | 64 EUR | 64 EUR | |
| Budapest | Amsterdam | 9/07/2019 | 44 EUR | 44 EUR | |
| Budapest | Geneva | 9/07/2019 | 43 EUR | 43 EUR | |
| Budapest | Zurich | 9/07/2019 | 125 EUR | 125 EUR | |
| Belgrade | Zurich | 9/07/2019 | 89 EUR | 89 EUR | |
| Belgrade | Paris | 9/07/2019 | 26 EUR | 26 EUR | |
| Belgrade | Istanbul | 9/07/2019 | 93 EUR | 93 EUR | |
| Belgrade | Amsterdam | 9/07/2019 | 45 EUR | 45 EUR | |
Pricelist updated on skyscanner.net on 08/11/2018
Welcome cards